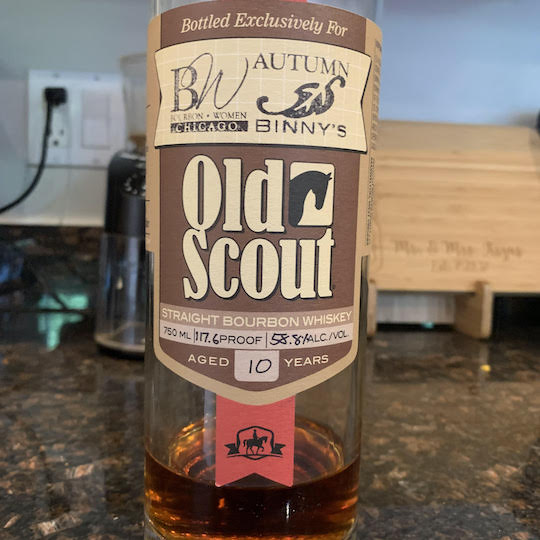 Smooth Ambler Old Scout 10 Year Single Barrel
I've been going through a lot of my old bottles lately and giving them a taste after not trying it at all for a long time. This one I remember picking up a Binny's on a whim for like 50 bucks because they were out of the particular Kilchomen I wanted to buy, but I suppose by today's standards this bottle would cost 900 dollars. I really like the simplicity of this, it reminds a lot me of Wild Turkey in that it's very basic and not trying to lift more weight than a bourbon is supposed to. In today's worrld, wouldn't spend more than 70 bucks (in today's dollars) on it. Dig it for sure, though.
Bottle Info
Distillery: Smooth Ambler
Barrel type: bourbon
Age: 10
ABV: 58.8
How this was acquired: store
Cost: No clue
Year purchased: 2015
Tasting Notes
Nose: butterscotch, metalic, graham cracker, typical bourbon notes: vanilla, oak, caramel, chocolate, yada yada. Pretty standard nose, only uniqueness is in the graham cracker note.
Taste: butterscotchy, rye, cinnamon, floral/flowery, typical bourbon notes: vanilla, oak, caramel, etc. The main identifying feature is the floral flowery note. Almost lavander. Very nice.
Finish: flowers, graham, butterscotch. Unique floral note, but otherwise very standard MGP/bourbon finish.
Binary Score: 1
Value Notes
Would I buy this (or if already bought, would you buy this again): Yes
Would I order this in a bar: Yes
Would I drink this if someone gave me a glass: Yes
Value For Money: 4/5
---
My Scoring System
0 | I didn't like it | It doesn't mean you won't
1 | I liked it | It doesn't mean you will