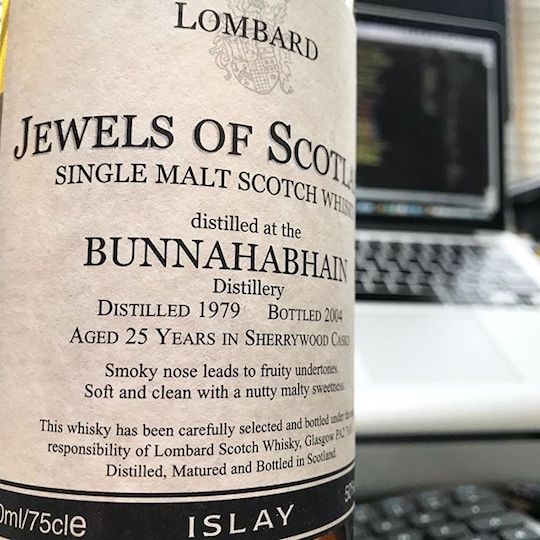 1979 Bunnahabhain 25 Lombard (2004)
This bottle is from the Lombard Scotch Whiskey under the Jewels of Scotland line. I don't know too much about this company other than they made this bottle. I've had other Bunnahabhains, but just not as werid as this one. Really recommend it if you get a chance.
Bottle Info
Distillery: Bunnahabhain
Barrel type: sherry hogshead
Age: 25
ABV: 50
How this was acquired: store
Cost: $150
Year purchased: 2013
Tasting Notes
Nose: malty, sweetness, floral, fino sherry?, nutty, lemony, custard, caramel, vanilla, briney hay, sour funk with time. really interesting sour note at the end, but sour in a lemony sense. really opens up with time.
Nose[water]: n/a
Taste: lemony, tart, malt funk, cerel sweetness, sour, odd ginger note, really odd interesting carbonated quality
Taste[water]: n/a
Finish: vanilla custard, frosting, vanilla, good - but really one dimensional and dry
Finish[water]: n/a
Binary Score: 1
Value Notes
Would I buy this (or if already bought, would you buy this again): Yes
Would I order this in a bar: Yes
Would I drink this if someone gave me a glass: Yes
Value For Money: 4/5
---
My Scoring System
0 | I didn't like it | It doesn't mean you won't
1 | I liked it | It doesn't mean you will